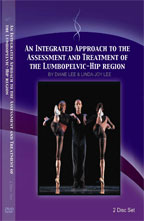 An Integrated Approach to the Assessment and Treatment of the Lumbopelvic-hip Region
Item Type: 2 DVD Set
Price: $115 USD – plus shipping
Product Status: In Stock!
This 2 disc DVD set by Diane Lee and Linda-Joy Lee is packed with over 4 hours of short lectures, full-motion video demonstrations, and complete descriptions of techniques and exercise instruction. This comprehensive resource provides clinicians with all the tools necessary to assess and treat problems in the low back, pelvic girdle, and hip joints, with a focus on restoring optimal function of the region. It is a companion to the 3rd edition of The Pelvic Girdle.
Contents include (Discs are available individually or as a set):
Disc 1 - Principles, Assessment Techniques, Treatment Techniques

Assessment tests for form closure, force closure and motor control
Restoring form closure - articular mobilization and manipulation techniques
Restoring force closure & motor control - reducing global rigidity
Correcting alignment

Disc 2 - Treatment Techniques continued: Restoring force closure & motor control

Principles of exercise program development
Sacroiliac belts and taping
Local lumbopelvic muscle system - isolation, endurance and co-contraction training including use of real-time ultrasound
Coordinating the Local and global lumbopelvic muscle systems - complete exercise progressions up to full functional integration including adding proprioceptive challenges and specific strength & length training for the area