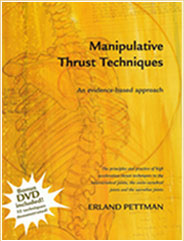 Manipulative Thrust Techniques: An Evidence Based Approach includes DVD with 52 technique demonstrations
Item Type: Book & DVD
Price: $130 USD – plus shipping
Product Status: In Stock!
The stated goal of this book is to present a cross-professional view of the history, development, principles, and practice of manipulative therapy and also to encourage an inter-professional dialogue with the aim of a providing a more secure environment for both patient and therapist. The stated audience for this book consists of professionals interested in learning physical therapy manipulation techniques.
The book contains 9 chapters. Chapter 1 provides a well-referenced overview of the history of manipulative therapy and an insightful discussion of the principles and practice of manipulative thrust technique with attention to definition, indications, contra-indications, and risks associated with this type of intervention. Chapters 2-9 then discuss thrust techniques specific to the craniovertebral, mid-cervical, uncovertebral, cervicothoracic, thoracic, costovertebral, lumbar, and sacroiliac regions. These chapters all provide succinct descriptions of relevant regional biomechanics, multiple beautiful anatomical line drawings, a great number of clear step-by-step color photographs, and very clear textual descriptions of the steps involved in setting up and performing the various techniques. A companion indexed DVD provides further clearly narrated and visual clarification of the techniques included in this book.
Despite its subtitle, this book does not provide --nor aim to provide-- a comprehensive and systematic review of the relevant literature making it an evidence-informed rather than truly evidence-based book with its emphasis on the author's clinical experience and expertise. However, this in no way devalues this text as it provides the reader with invaluable insights into the clinical reasoning and technical expertise of a clinician that truly epitomizes the ideal of a reflective practitioner who is not only an undeniable clinical authority in the field but also a gifted educator in that this book provides perhaps the clearest descriptions of spinal manipulative thrust techniques I have ever seen. In summary, this book and its companion DVD is a must-have in the library of any professional with an interest or expertise in manipulative therapy regardless of professional persuasion.
Peter A. Huijbregts, PT, DPT, OCS, FAAOMPT, FCAMT